2020 has turned out to be the year of uncertainty with COVID-19 looming large in every stratum of work and life. The COVID-19 pandemic is the most significant societal crisis of our lifetime. With social distancing driving a new "normal", the pandemic has transformed how we work, play, shop, and live.
In the context of the new business normal, people are now forced to work from home and maintain social distancing. This has affected most of the businesses to a great extent in terms of meeting new clients, increase sales pipeline and increase revenue. To recoup the momentum, businesses need to look at sales and marketing innovatively. Adapting to new methods and strategies in business will help a lot in balancing sales pipeline and revenue.
How To Get Your Sales Numbers Back Again?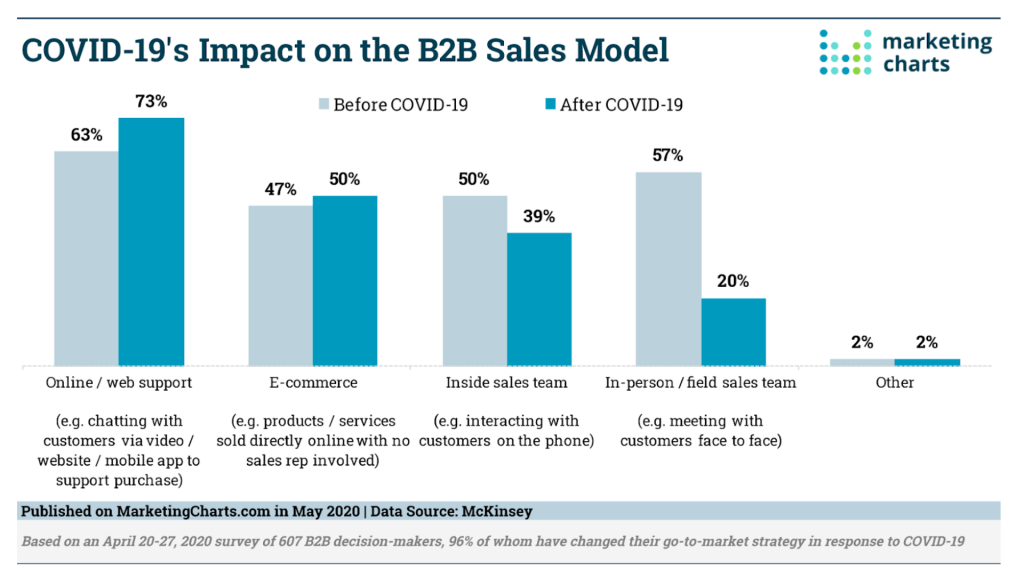 For all organizations, sales is one of the foremost factors of success. Being consistent in sales is not as easy as earlier. Due to this, most of the companies are hustling to search and adopt new methods in order to regain sales momentum using every possible way.
According to the above report by McKinsey, before the crisis, close to 6 in 10 businesses (57%) sold using in-person or field sales teams. But since the outbreak of COVID-19, that figure is now just 1 in 5 (20%).
The time calls upon us, to remold our traditional sales techniques and make them pandemic-proof! Here's how you can do that:
B2B Appointment Setting
To those who are not familiar with the concept of appointment setting, it is a way of prospecting new clients and generating interest in your products and solutions in order to get sales qualified leads. In this pandemic situation, appointment setting is one of the quickest ways to find new prospects and get access to sales qualified leads for the sales team to bridle the drop-in sales.
The sales process is long, competitive, and complex in a B2B selling environment. Getting the foot in the door in brand new accounts is one of the biggest challenges a salesperson faces. The challenge is compounded when a salesperson has to spend time cold calling, to have a meaningful conversation with a prospect, while simultaneously balancing complex sales cycles.
This not only elongates the lead conversion cycle but also reduces the morale of salespersons. Appointment setting needs to be done in a smart manner. It takes time and intelligent calling to make it happen. Imagine the amount of time and resources you will save, if you had an extended team, setting them for you, and taking care of the numerous follow-ups to facilitate these meetings. That's why appointment setting is a critical step to build a sales pipeline.
Revvlocity's systematic and informed approach to appointment setting sets our service apart. We build a highly accurate and customized database with your target clients and their key decision makers. Our experienced sales specialists leverage important insights about the purchase behaviour of key decision makers to get you that all-important first meeting.
Inbound Lead Management
One of the main challenges every organization faces is, timely follow up on the In-bound leads. Most organization's report that they are able to reach fewer than 20 percent of their leads live on the phone. According to MarketingSherpa, 61% of B2B marketers send all of their leads to sales even though only 27% are actually qualified. Not only this, sales reps ignore 50% of the marketing leads according to a study by the TAS Group.
Most organizations try to handle this internally but are challenged to do so effectively. The best qualification process happens when you speak with the leads live on the phone. But because it takes an average of 60 dials to reach each inbound lead, it ultimately becomes a resource issue.
Revvlocity's Inbound Lead Management service helps organizations to cut through marketing lead volumes, provide the intelligence required to quantify the value of your programs and allow the sales team to pursue the best lead.
Customized Market Research
The most important ammunition a sales professional should have is understanding of the markets where he is going to sell. Not knowing the client details, industry/market details, competitive landscape, etc., will deter the salesperson in making inroads into that segment.

In the above context, market research goes beyond informal customer feedback (e.g. testimonials, social media feedback) to develop a rigorous understanding of where a business has competitive advantages and to what extent. It also highlights areas of relative weakness (real or perceived), which sales professionals can utilize in order to anticipate and neutralize the various objections a prospect can have.
Revvlocity has significant expertise in building a strong understanding of different market segments. This gives the sales professional an added advantage while prospecting a new client, getting inroads into a new geography, market trend, or competitive information. This insight is especially important for re-engaging stalled or cold leads and also as an effective strategy while building a robust Account-Based Marketing (ABM) campaign.

By aligning your sales strategy with our constructive market research, you'll be building your trust and credibility with your target audience as you find ways to optimize, transform, and innovate your products and solution offering.
Partner with Revvlocity
At Revvlocity, we believe that companies that build great solutions deserve to grow faster. We offer a suite of comprehensive solutions that help them get there. From analyzing and improving marketing campaigns – to generate highly qualified leads to setting up high-touch strategic appointments with potential customers – to building cutting-edge market intelligence; we provide a range of services to help businesses build revenue and leapfrog growth.
No matter what your goal is; be it increasing revenue, nurturing the sales funnel, gaining international clients, or setting meetings with key stakeholders, Revvlocity's experience and expertise will help you fulfill all your business goals with its innovative and powerful sales services.